Pioneer Living History Museum




1863-1912



Located in North Phoenix, you'll visit over 90 acres of an old 1800's town, with no cars or smog! You will find authentic buildings and historically accurate reproductions. See the Opera House where Lilly Langtry sang; look through a rifle port in the actual cabin that survived Arizona's bloodiest range war; laugh your way through a "melodrama"; or browse through an 1890's dress shop and much more!
All of this, plus a blacksmith shop, sheriff's office and jail, complete ranch complex, and costumed interpreters including cowboys, lawmen, and lovely Victorian ladies – await you at Pioneer Living History Village, Arizona's most authentic Old West town.
~ Professional pictures or video can be taken with a signed release and a $25.00 (one time fee) plus admission. Personal pictures they are permitted with regular admission.
All Hallows' Eve
October 27 6pm-10pm
$6/person or $20 for a four pack
–
Rebels & Redcoats
11/2/18 – 11/4/18
–
Picacho Peak Civil War Event
11/16/18 – 11/18/18
Join Us Saturday October 13th
Annual ASRPA Roundup Dinner
Bring the family out to all of the fun, friends, great food, and speakers! This years dinner will be at the historic Pioneer Village. Plan to spend the day taking in the museum and several ASRPA Firearms courses being offered on the grounds throughout the day. More information coming soon.
Jun 1st – Sep 5th
Mon & Tues – Closed
Wed – Sun — Open 7:00am – 11:00am

*Closed Christmas, New Years, Thanksgiving & Easter 
(unless event is scheduled)
Sep 6th – May 31st
Mon & Tues – Closed
Wed – Sun — Open 9:00 am – 4:00 pm
Children under 18 are $8

Adults are $10

Veterans and Seniors are $8

*

Parties of 15 or more $8 per person

Children under 5 are free
*Applies to corporate and private parties only, does not apply to school rates
Pioneer Living History Museum Map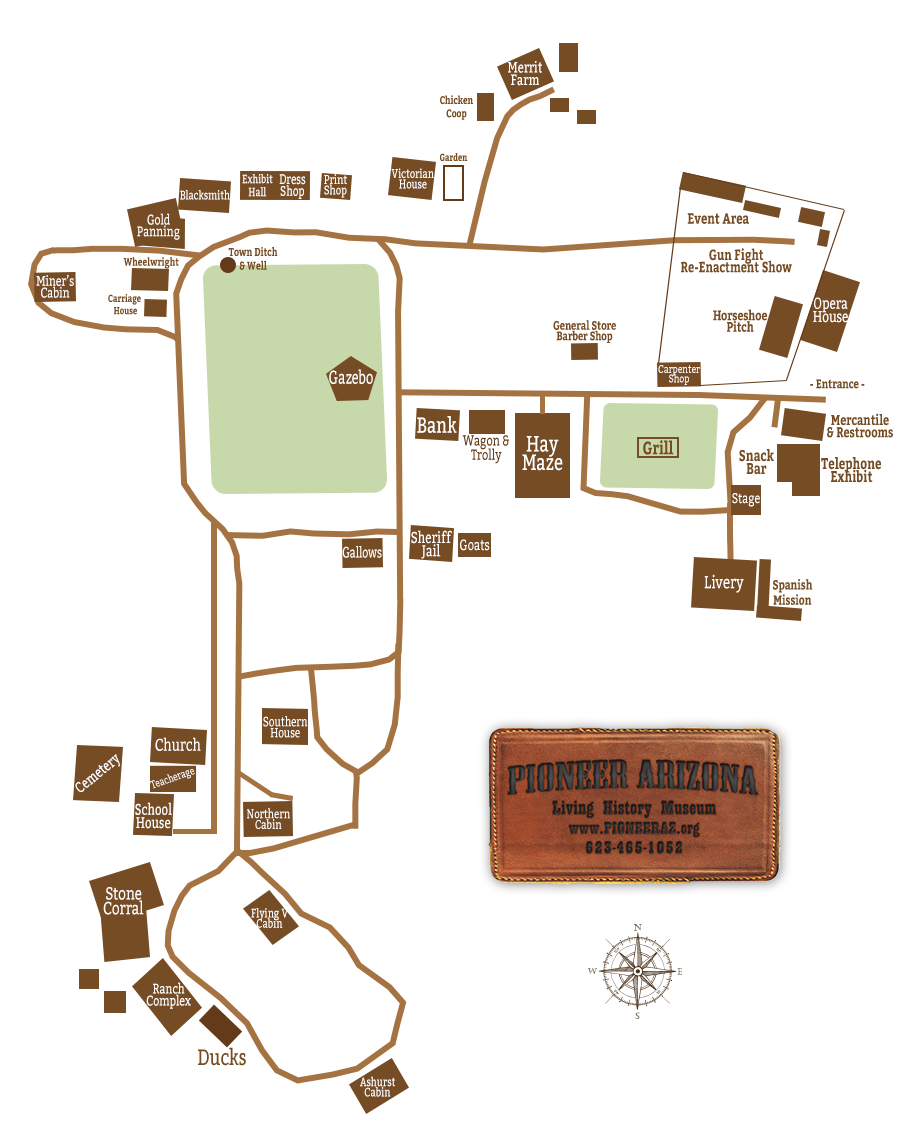 1
OPERA HOUSE
Click Now to See More
2
TELEPHONE MUSEUM
Click Now to See More
3
CARPENTER SHOP
Click Now to See More
4
DRESS SHOP
Click Now to See More
5
MERCANTILE
Click Now to See More
6
BANK
Click Now to See More
7
SHERIFF
Click Now to See More
8
ASHURST CABIN
Click Now to See More
9
VICTORIAN HOUSE
Click Now to See More
10
MERITT HOUSE
Click Now to See More
11
BLACKSMITH
Click Now to See More
12
EXHIBIT HALL
Click Now to See More
13
CHURCH
Click Now to See More
14
SOUTHERN HOUSE
Click Now to See More
15
PRINT SHOP
Click Now to See More
16
TEACHERAGE
Click Now to See More
17
NORTHERN HOUSE
Click Now to See More
18
RANCH COMPLEX
Click Now to See More
19
SCHOOL HOUSE
Click Now to See More
20
FLYING V CABIN
Click Now to See More
21
BARBER SHOP
Click Now to See More